Keys2X v1.0
---
Version 1.0.X below. The core of v2 uses a further optimised and lighter-weight v1.1 at heart.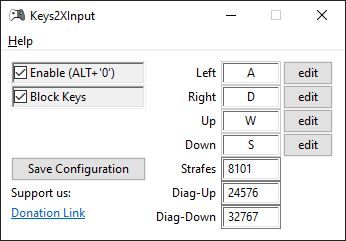 1.0.4 download – win10/11 only
1.0.3 download
1.0.2 download
1.0.1 download
v1 Installation: Extract the .zip file to a folder, and run "keys2xinput.exe".
When you run keys2xinput, if you do not have ViGEm installed, k2x will pop up a link to download the "ViGem Bus Driver" (found here).
---